Parents are the primary sources of security and soothing, critical for optimal child development.
A parent who is available to provide emotional nurture, support and unconditional positive regard, is one who is
emotionally aware of their child's emotional life, attended to their child's needs, and available for support, reassurance and
guidance.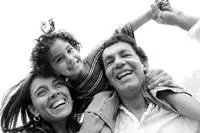 LGBT children are at a high risk of experiencing parental rejection, for many reasons.
Parents often experience grief, loss, shame, and fear around their child's sexual or gender diversity, whether that child
has "come out" or not. This can lead to micro-aggressions and small corrections that instill a sense of shame or fear in a child who
is perceiving that their behavior or being is distressing. Children seek security at all costs, and will modify their behavior and presentation in order to
avoid such rejection and secure the love of their parents.
If you are reading this, you are seeking information about the best ways to love and support your child, and that means dealing with your own
feelings so that you can be available to your child.

A Soul has no Gender: Love and acceptance through the eyes of a mother of sexual and gender minority children.
Denise Ajeto, PsyD.

Transgender 101
Is my child transgender?

My Child is Transgender: 10 Tips for Parents of Adult Trans Children
Matt Keily


Resources for Parents
Safe Schools Coalition



Need help working with teachers and administrators on supporting the needs of your gender variant child? Need help dealing with bullying or discrimination? This is a great resource.



Website: safeschoolscoalition.org

Trans Kids Purple Rainbow Foundation



TKPRF is committed to enhancing the future lives of TransKids by educating schools, peers, places of worship, the medical community, government bodies, and society in general, in an effort to seek fair and equal treatment of all transyouth.



Website: http://transkidspurplerainbow.org


Trans Youth Family Advocates


Trans Youth Family Advocates is a national organization dedicated to education, support and advocacy for gender variant youth, transgender youth and their parents.

PARENT SURVEY - Currently conducting an online survey for parents, grandparents and caregivers in order to gather more accurate information about the statistical occurance of gender variance, and family responses. This will help agencies like TYFA lobby more effectively for health and civil rights for our gender variant kids.

Website: http://imatyfa.org/



---
www.gaydoctors.com A Free Gay / Gay Friendly Health Professional Directory for the LGBT Community – Doctors, Dentists, Health Practitioners of all specialties. No Cost or Obligation